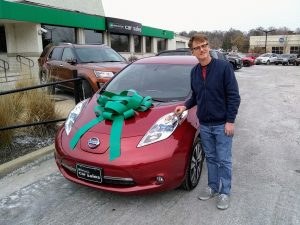 Hey, I thought I got a pretty good deal on this used 2015 Nissan Leaf. First time actually owning an electric, and the experience has been enlightening.
First of all, the SV model comes equipped with quite a high level of standard equipment, including heated leather seats–front and back–and a heated steering wheel. Of course the climate control provides nearly instant heat, but at the expense of range.
Speaking of range, it has not been a issue. Anywhere I've wanted to travel in the KC metro area has been well within the little car's range. I suppose it helps we live in midtown, so no one metro trip has a radius of more than 40 miles.
Recharging the batteries has also been less trouble than anticipated. My first thought was I would need a 220-volt charger installed at the home. However, the 110-volt recharging cable provided by Nissan with the vehicle has been adequate. We already had a weatherproof 110-volt socket on the side of the house, so we simply plug in the car every night when we are finished using it. It's always fully charged by morning. I also believe plugging in the car on cold nights keeps the battery from getting too cold.